Practitioner Course in B2C Sales
This Programme is our entry-level programme with only 2 Digital Coaching Modules. Nevertheless, two very important Modules, because if a Sales Rep can't close and deal with customers' buying anxieties or objections, it has a huge impact on his or her results. Once you provide your sales team with this necessary knowledge, you will see the average score improve immediately.  
This B2C Sales Programme consists of the following two Modules:
Closing Techniques

Objection Handling
Closing Techniques
Closing is a tricky subject even for experienced sales people.  After following this module, a sales person can close in different ways and especially in a way that comes across as 'smooth' to the customer.  Closing, recognising buying signals and anticipating the future (closing without asking the closing question) will belong to the skills of every sales person following this Digital Coaching Module.  Those who do not learn to close easily will remain stuck at the level of a quotation provider for their entire sales career.  A high score is only reserved for those who learn to 'close' smoothly.
Objection Handling
A closing question is followed by a 'yes' or 'an objection'.  Objections come in many forms.  Just think of objections such as 'thinking about it', 'too expensive', 'compare prices' or 'we never decide the first time'.  As a seller, you have two choices.  Either you 'buy' the customer's objection (which is very often a 'fake' objection) and 'hope' that the customer will come back the following week.  Or you learn how to deal with objections, for example by following this Digital Coaching Module, and then the sale 'begins' the moment the first objection comes to light.
Your SALESTEAM will acquire the KNOWLEDGE through this Programme to, among other things:
Ask for the order in a gentle and respectful, but also very clear way
Know during the conversation, by applying a 'trial close', whether a possible sale is possible today
Already know within the first 10 minutes, thanks to the 'starting technique', whether the criteria are met to sell to these customers today
Know WHY it is so important to learn and use these closing techniques effectively
HOW they can anticipate to OBJECTIONS such as 'thinking about it, 'too expensive', 'a better price elsewhere' or an objection such as 'comparing prices'.
Use the 'isolation technique' to immediately know whether an objection is a 'true' or a 'fake' objection
Top, very instructive, super clever connective sentences, good argumentation.
One of the most instructive courses, and I have already taken about 15 of them.
Very interesting training for someone who is just starting out in sales like myself, but also for experienced salespeople.
Very captivating and instructive from start to finish.
It is fascinating, interesting and easy to put into practice.
Interesting way to learn how to make customer contact and to immerse yourself in it.
Very good. A practical training.
Clear story, sometimes very recognisable but on the other hand many new insights. Very positive.
Top explanation & great content, learned a lot in a short time.
Very good Tips & Tricks, will try them out immediately.
Super! Very nice refresher course that taught me a lot again.
Very nice refresher for me. Very useful for the sales team!
I have had several trainings in the past years, but now I have completely different insights and that only in 1 Module.
A lot of information, but presented in a very nice and interesting way.
A lot of food for thought. I have been stimulated to work on myself and my future.
Blessed! Very interesting, clear & practical. Super smoothly delivered, beautiful images, very visual.
Very interesting. It made me think about certain things that I will definitely apply.
Turnover X2 suddenly seems realistic
Very positive. Like a good chef who puts a super meal on the table with the best ingredients.
Very practical training, applicable in both private and professional life.
Clear, inspiring, concrete tips. Motivating and quickly applicable.
Thank you for the new insights.
Good tools to change yourself. Substantiating and instructive. Coaching that motivates you to do better.
Very good tips to boost sales! Clearly explained with good examples.
Clear and structured slides. Motivating. Prompts to 'reset' the mindset. Top!
This training gave me a boost, also on a personal level.
A very interesting option module for this programme is definitely: The Salesgame
In this Digital Coaching Module 'The Salesgame' I teach your sales staff to play a sales game in which closing and dealing with objections can be 'played' in a pleasant way.  This quickly creates a certain 'routine' and the game element provides a relaxed way of learning.  This game can then be played a few times a week (for example during the lunch break), after which your sales team will notice that the handling of customer objections will soon be on automatic pilot.
You can also order the physical game we developed with the cards and casino chips.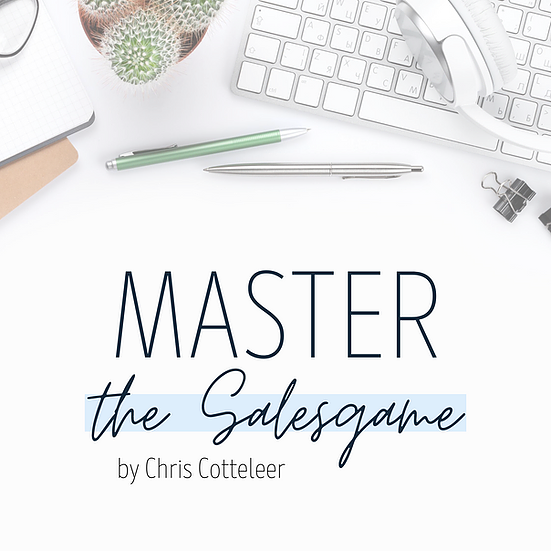 We would be happy to meet with you to explain this course or the various Digital Coaching Programmes in person